So here's what we did to enjoy learning about the beach.
Music: Baby Shark Song– She wasn't crazy about this version of the song, but we searched around for some other versions on YouTube that she liked more.
Books:  She LOVED reading all of these books. She especially loved the series with Tickly Octopus, Clumsy Crab, Smiley Shark, Fidgety Fish, etc.
Sensory: Coral Reef Sensory Play: We continued to use these manipulatives in the bathtub and with blue aquarium rocks in the sensory bin.
Colors/Math: Fishing for Colors: Fairley knows all of her colors, but she still loves this set. We fished for a color, and then sang the Frog Street Press color song (and read the book) that goes along with it. She wasn't really that interested, though, until I chromecasted the songs from my computer up to our TV.
Reading: Alphabet Fishing Activity – We didn't get to this one, but probably still will at some point in our Tot School adventures.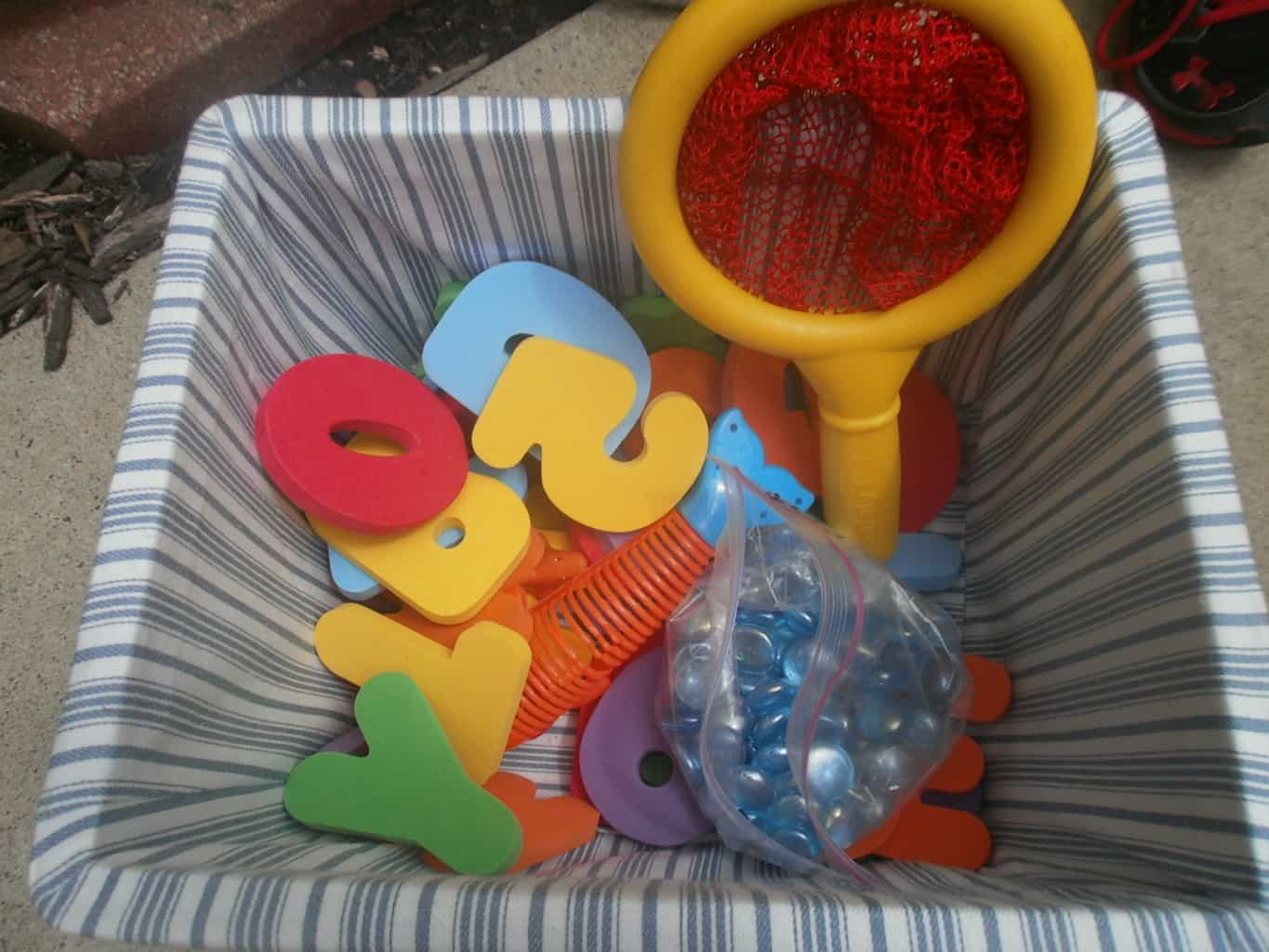 or Sea Shell Letter Match – She liked this. We actually combined the shell letter match with the fizzy baking soda activity. She loved playing with the cloud dough, but she didn't love working with the letters on the shells at that point. I figured I would offer her the same activity again, so I put the letter shells under baking soda and let her uncover them with ocean-colored vinegar.
Science:  Fizzy Baking Soda Ocean Sensory Play – She loved this one so much! And we used it to uncover shells with letters on them (and matched capital and lowercase letters).
Saltwater/Freshwater Float/Sink Activity – This one didn't actually work for us! At least with the heavy underwater manipulatives we had. When we used eggs, it did work! (It just seemed to be a little confusing for her.)
Art:  hand print mermaid
We also love these two activities:
Snack: Ocean Muffin Tin Meal – Check out the pictures at the top to see how ours turned out! She LOVED it (and ate every bite!)
Here are a few ideas. (Click on the photo for link.)
A list from this website:
Shells and cheese
Sandy beach with an umbrella (made with yogurt and crushed Graham crackers)
Coconut water
An octopus hot dog on a bed of seaweed (ramen noodles dyed green)
Dolphin shaped chicken nuggets
Baby goldfish crackers