Ok, so here's the updated post with pictures from our time celebrating America! I'm starting to prepare our next American Geography unit, so some of the books will be the same/we might still keep doing some of the same activities, or activities we didn't get to yet!
Post from 6/20 with updates below:
So a friend asked Fairley to participate in a fun book swap, which gave me the idea to do a little unit on American geography. I'm super excited about that unit (details in an upcoming blog post), but first – I thought we shouldn't miss this opportunity to celebrate and learn about America with the upcoming holiday of the 4th of July. I think this is going to be such a fun unit and also a great segue in to our social studies unit of geography (for the second half of July).
Also, just to clarify – all of these great ideas are just a compilation of other mom's/educator's ideas. I have provided the link to the original website/blog when possible. Also, my structure is a little more Montessori-based in form for this unit and differs slightly from the planning I typically do (but still seems really fun and educational!)
Books:
Loved the pictures on this one!
 Keeping this for our geo unit.
 Great into to our geo unit.
 Short, simple, fun.
 A little over her head, but good for teaching diversity.
 Simple. Not my favorite but still fun.
 Lots of good info, and Fairley wanted to read it over and over!
Sensory:
-4th of July Baking Soda Sensory Play – Loved this one!!
–Shaving Cream and Paint Fireworks – Liked this one, but didn't last long.
Fine Motor:
-Patriotic Pom Pom Transfer – Fairley is kind of "over" these for now, until I find better tweezers. Right now, we're still using big hand tongs, and that makes it a little too easy for her. We did find some fun pinwheel clothespins, and she loved working with those, which was also great fine motor practice.
–Stringing Stars – She did one of each color and was done.
(Also great for color recognition and patterning)
–Water Bead Balancing – Super fun!! Favorite!!
Math:
Star Patterns – Still need to do this one.
–Star-Themed Shades of Color – I didn't end up getting this one printed and cut, but I did use the printable packet (free) from this website, and we did a lot of other things like patriotic memory game, sorting small, medium, large, putting flags in order by size, shadow matching, and a few more!
–Shadow Matching – She did really well with this one!
–Plant a Flag – Looked everywhere for toothpicks but never found any.
Dramatic Play:
–Statue of Liberty Crown – Fairley's other favorite activity. She told me she needed a "robe" so we used her dad's shirt, found her a "torch" and a book!
Art:
–Fireworks Art – Super easy and Fairley loved it. (Although, we had to look up youtube videos of fireworks for her to know what they are!)
–Flag Craft– Skipped this one. Still might get to it later, though.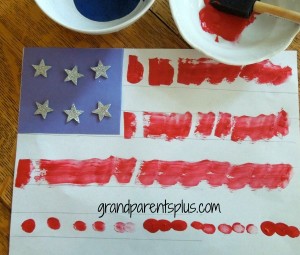 –Star Stamping – For later maybe.
Snack:
–Star-shaped pancakes and red, white, and blue fruit – Such a fun breakfast on the 4th of July!